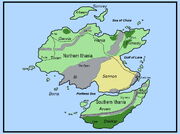 Dram is a coastal village in Dunway that belongs to the Correl Clan. The Talm of the Clan is Gret, and the village leader is Wim.
Spoilers from "Voice of the Gods"
A Pentadrian ship was shipwrecked on the coast of Dunway and the survivors fled to Dram for rescue. They told the villagers that they had come with their families, looking for better opportunities in life. As a payment for helping them, the pentadrians worked for the villagers and befriended them. Soon after, they asked if they could settle in the village, and no one opposed to this decision. Led by their leader Servant Warwel, they taught the Dunwayans of the Pentadrian faith, and converted some. With the help of Chemalya working in Chon, servants and their families who wanted a better life, would leave to live in Dram. Gret doesn't look too closely as this happens, satisified as they pay their taxes and work the fields.
Later, the White discover the Pentadrian plot of trying to convert the Dunwayans away from the Circle. Ellareen is sent to Dram to reprimand the village after informing Gret. Ellareen revealed to the village that the shipwreck was on purpose and many of the people were infact Servants. After consulting with I-Portak, they decide to send the whole village to Chon for trial. Many were found guilty of either converting to the Pentradrian faith, not informing Gret or others about the Pentadrians by fear or ignorance, they were executed. Those who were unable to do so, such as the very young and ill were spared.
Community content is available under
CC-BY-SA
unless otherwise noted.