... the Night Room, where magicians gathered informally each Fourday evening to relax, sip expensive wine and gossip... Dark blue and gold patterned screens covered the windows. Luxurious cushioned chairs were arranged around the room. The walls were decorated with paintings and carvings by the best artists of the Allied Lands.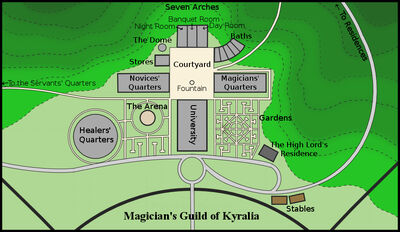 The Night Room is one of three rooms in the Seven Arches. It serves as a social room for magicians and many frequently attend Fourday evening. During The Black Magician Trilogy, Dannyl finds a table where he can eavesdrop on other magicians, and teaches this skill to Rothen.
Community content is available under
CC-BY-SA
unless otherwise noted.