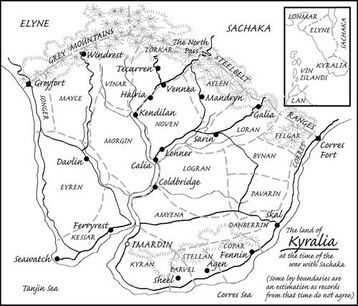 Tecurren is a village located to the north of ancient Kyralia, in Torkar Ley. The city is close to the Grey mountains, and is situated to the west of the town of Windrest, and to the north of the ancient village of Vennea. It is also the closest city to the North Pass in distance, but it had no direct road to get there.
Spoilers from "The Magician's Apprentice"
Tecurren was the second village which was attacked and destroyed by Takado and the other Ichani. They killed and tortured half of the people, while the rest had been held prisoners. The Kyralian army managed to kill all the Sachakans who stayed behind. There were survivors of the ordeal, who fled to other places.
Community content is available under
CC-BY-SA
unless otherwise noted.