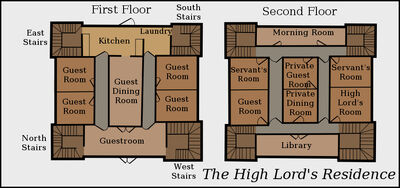 The High Lord's Residence is the building where the High Lord lives. In The Black Magician Trilogy, Akkarin lives there with his servant Takan.
The building is old, dark grey, and was used as guest quarters to important visitors. However Akkarin refurbished the entrance hall into a guestroom and stopped visitors staying there.
Spoilers from "The Novice"
Sonea lives in there when she becomes the High Lord's favourite, and moves out at the end of The High Lord. The underground room is also destroyed by the magical battle between a Sachakan slave and Akkarin.
Spoilers from "The High Lord"
The underground room in the residence joins to the Underground passages, which in turn join up to the passages under the city. These are used by Akkarin, Sonea, and Takan.
Spoilers from "The Ambassador's Mission"
After the death of Akkarin, the new High Lord Balkan lives there. Takan also disappeared, so it is assumed Balkan's servant stays in the residence with him.
Community content is available under
CC-BY-SA
unless otherwise noted.